AZTI Group of Companies' rail platform safety system is a proprietary system. Its Platform Intrusion Emergency Stop (PIES) and Intrusion Preventive System (IPS) is innovated, developed and owned 100% by a Malaysian company and the only system that has a proven track record of over 30 years.





How PIES Works
PIES uses a series of flexible mounted sensor panels located between running rail in front of platforms and attached a proprietary strain sensitive cable BLUCOR to these sensor panels and developed electronic circuitry to eliminate environmental effects while detecting human intrusion.
PIES was designed in Canada initially for Vancouver SkyTrain to detect human beings on the guideway and be immune to electromagnetic fields (EMF) and radio frequency interference (RFI) as well as immune to environmental effects.
The motion-sensitive cable (attached to a series of flexible mounted, rigid sensor panels located in rows in front of each station platform) generates electronic signals in direct response to any motion applied to the sensor panels.
The signal then will be filtered and monitored for any changes to trigger a notification signal to Train Signalling and Scada via dry contact.


Merits of PIES/IPS
Proven, simple, reliable and cost-effective, PIES in Malaysia has been in operation since 1996 in Kelana Jaya Line with trains passing through more than two million cycles.
There has not been any major repair of PIES other than normal wear and tear like cable replacement and standard upkeep of parts replacement and maintenance.
PIES is capable of continuous operation regardless of weather conditions and proven to work without degradation in extreme weather.





Flexible, Cost-Effective
The system is also easily adjustable to suit required sensitivity; unsusceptible to EMF/RFI; and customisable to fit in any track, providing flexibility and cost-efficiency.
It is also scalable for redundancy, and all spare parts are now readily supplied internationally.
Furthermore, PIES complies with EN 50121-4:2006, EN 50126-1:1999, EN 50128:2011 and EN 50129:2003.


Global Expansion Drive
AZTI has been aggressively expanding abroad since 2017, and has identified potential markets and made contact as well as business traction for its new phase of business and product development.
These include MTR Hong Kong (platform rubber gap filler), Taiwan (PIES systems), Indonesia (PIES systems) and Shanghai, China High-Speed Rail (PIES for extended platform of 300 metres).
AZTI Group of Companies, AZTI Technology Sdn Bhd, AZTI Engineering Sdn Bhd and Alpha Zaicon Technology International, Canada are 100% Malaysian-owned companies.
The group was set up as a platform dedicated to supporting the business of the PIES system for the Asia Pacific region and globally.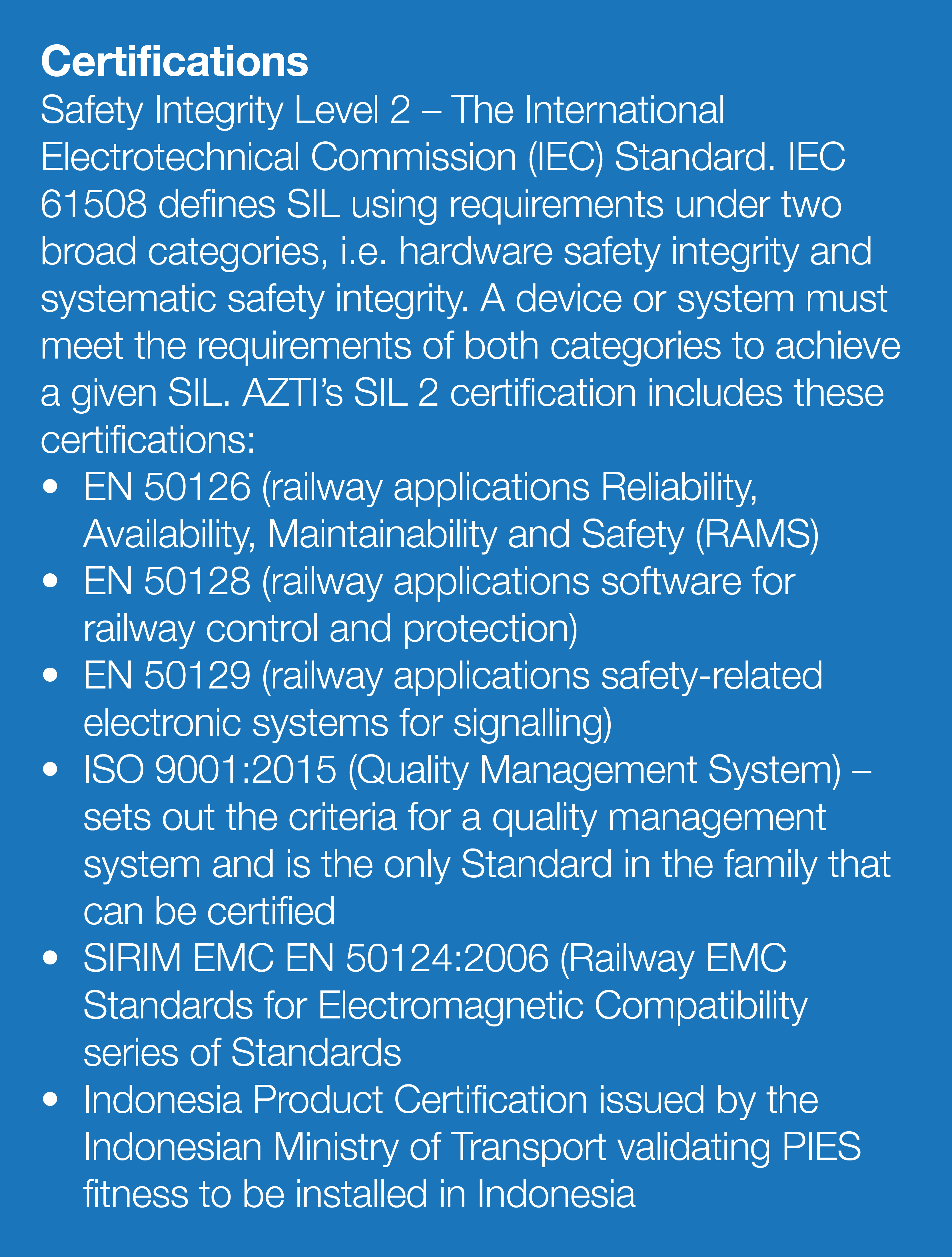 Contact Us:


AZTI GROUP OF COMPANIES


No. 3-9, The Boulevard, Mid Valley City, Lingkaran Syed Putra, 59200 Kuala Lumpur, Malaysia
Tel:
+603 2201 8620

Fax:
+603 2201 8619

Email:
info@aztigroup.com
Contact:
Mr Lian Wah Seng
Website:
aztigroup.com