The 12 Waves at Batu Kawan.



A leading niche logistics solutions provider in Malaysia and with a strong presence in South
Korea, Taiwan and most of ASEAN countries, PKT Logistics Group Sdn Bhd provides great value to its customers by offering innovation solutions backed by sustainable business practices.
Nimble, Responsive
PKT's logistics solutions is able to adapt to its customer needs with a high level of service and attention to detail.

These solutions range from haulage and transportation, international freight forwarding and warehouse facilities to customs brokerage and trade compliance; ranging up to 5PL logistics.





The Lighthouse, first GBI Gold-certified warehouse in Malaysia
Next-Gen Logistics Hub
PKT's The 12 Waves is a next-generation warehouse based in Batu Kawan, Penang that offers the full spectrum of integrated logistics and supply chain solutions to customers from automotive, electrical and electronic, to fast moving consumer goods (FMCG) industry.
The 12 Waves feature ambient, air-conditioned and cold room temperature compartmentalised control storage options.
Such temperature-controlled facility is ideal for frozen food transportation and storage and also goods that require end-to-end ambient control.
The 12 Waves is the key component of PKT's One Auto Hub in Penang with 650,000sq ft of warehouse space.

It has state-of-the-art features such as solar panels for electricity generation and advanced security and surveillance systems. It is also the longest and biggest single-storey warehouse in Malaysia.



A fleet of trucks.
Eco-Friendly Warehouse
Meanwhile, PKT's The Lighthouse in Shah Alam, Selangor, is the first Green Building Index (GBI) Gold-certified warehouse in Malaysia.
It features built-in solar panels to generate green energy, and energy-saving LED lighting system as well as a rainwater harvesting system for general use.
The warehouse is equipped with six elevated loading bays and three cargo lifts each with up to four-tonne payload capacity catering to inbound and outbound services.
Superior Supply Chain Management
PKT is recognised for its superior supply chain management processes that propel its business growth.
It serves a diverse range of market sectors including automotive, food & beverage, fast-moving consumer goods, construction, and e-commerce.
It provides end-to-end design, implementation and operation of logistics solutions in freight forwarding, customs brokerage, haulage, contract logistics and distribution management for large and medium-sized national and multinational companies.





CSR initiative.
Socially Responsible
PKT is a socially responsible company providing logistics services by employing local human resources, building environmentally friendly warehouses, practising open engagement with communities, and inspiring other businesses to provide a positive impact to the people and communities through its activities.
It is an active proponent of innovative corporate social responsibility (CSR) initiatives.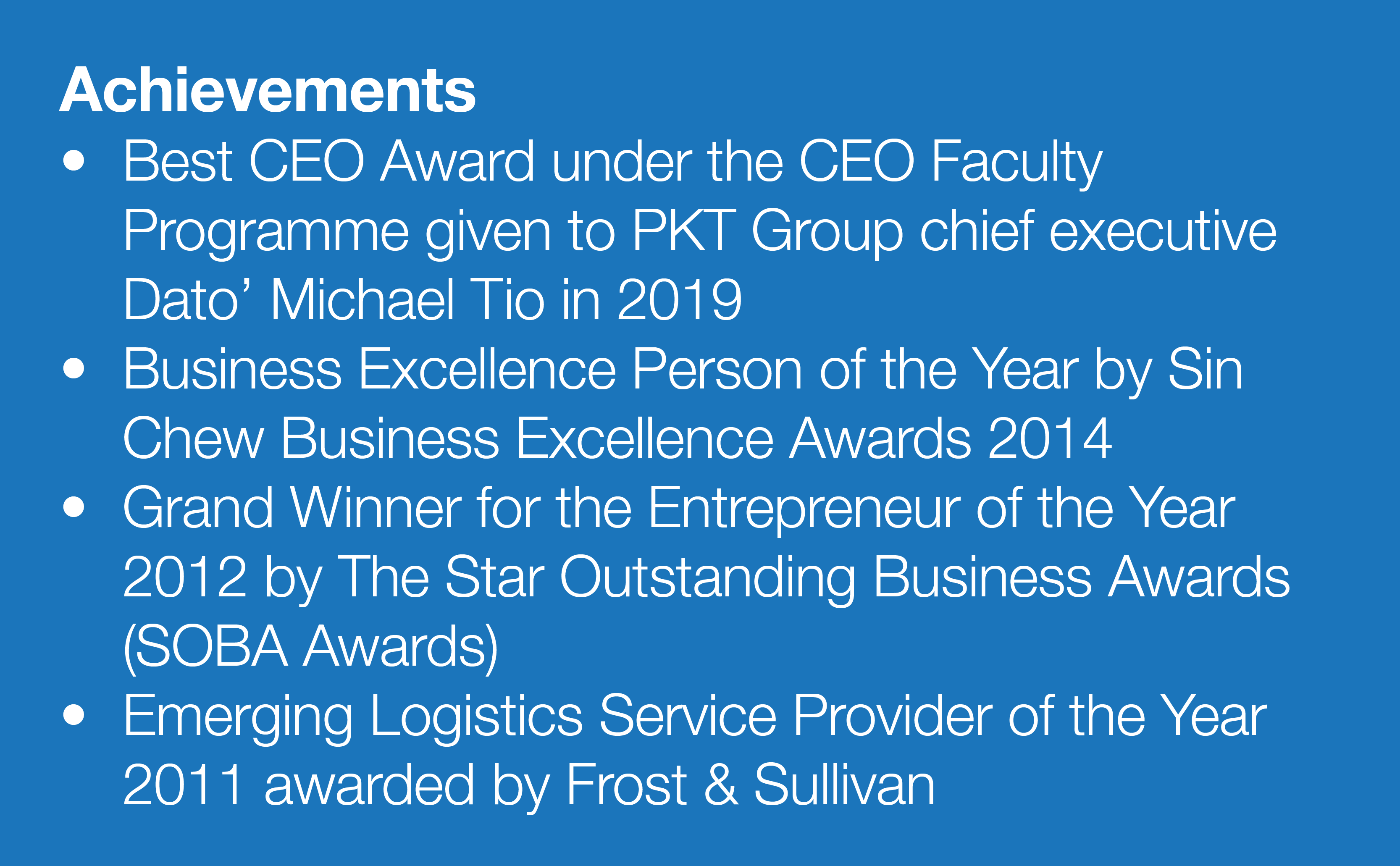 Contact Us:


PKT LOGISTICS GROUP SDN BHD


The Lighthouse, No. 1, One Logistics Hub, Persiaran Sungai Hampar, Section 32, 40460 Shah Alam, Selangor, Malaysia
Tel:

+603 5161 8111

Fax:
+603 5161 1762

Email:
pr@pktgroup.com
Contact:
Ms Nur Athirah Binti Rushami Zien

Website:
www.pktgroup.com