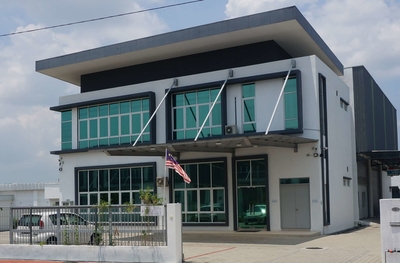 Cytron Technologies' headquarters in Bukit Mertajam, Penang.
Robotics and automation are more than just a buzzword these days, and with the exponential advancement in technology, the demand for components is soaring. Cytron Technologies Sdn Bhd turns this into a strength and leverages on the increasing demands within the robotic ecosystem to support the advancement of robotics.
Cytron Technologies kickstarted its journey in 2004 and have come a long way since. The name was inspired by the founding team's love for the movie Transformers – "Cybertron", being the homeworld of the Transformers– and the love of building robots. The team's victory at ROBOCON Malaysia eventually led to the formation of Cytron. Once a small team of five, its workforce is now 35 strong.




Bringing Robotics To The Masses
While achieving penetration into the global market is indeed a feat, they continue to drive innovation to ensure they stay relevant. Their motto of Robot. Head to Toe has driven the company to design and develop over 100+ products ranging from Motor Drivers, Sensors and Robot Controllers, to various kinds of Shields and HATS.
The company believes in education and constantly organises workshops and execute projects to educate people with little background in the field. They strive to provide solutions for educators and students while encouraging the development of smart electronic and robotic projects. This is done to promote a more a tech-savvy and progressive society in the country.




Their very first product, SK40A, is a microcontroller development board which enables the user to easily create their own robotic and electronic projects. Coming a long way, they now have their own Surface Mount Technology (SMT) line in a large factory, which is a manufacturing method to produce electronic circuits whereby components are directly assembled onto the surface of the printed circuit boards (PCBs), as opposed to conventional assembly method.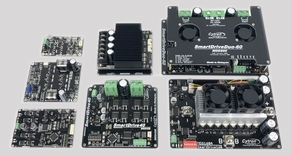 Components Of The Future
Cytron's signature product, the Motor Driver series, is world-renowned and ranked as the top-selling motor driver at a global leading robot marketplace. The company's Motor Driver series range from 2 Amp to 160 Amp, and are used in Automatic Guided Vehicles (AGV), solar trackers, innovation automation, combat robots, electric vehicles and more.
A Motor Driver functions as a current amplifier, converting low-current into a high-current control signal in order to propel a motor. What makes Cytron's product stand out, is its durability and low failure rate.
Some of the products such as the 30A 5-30V Single Brushed DC Motor Driver also keeps the user in mind, with reverse polarity protection to guarantee safety. With solid-state components integrated into the products, Cytron's motor drivers promise quicker response time and prevent deterioration of the mechanical relay.
Having been in the overseas market since 2010, they have more than 30 distributors worldwide, enabling purchase in the USA, Canada, UK, France, Japan, Korea, India, Singapore and Thailand. Their perpetually expanding market reflects healthy growth in the ecosystem as well as the proliferation of forward-thinking individuals in the world.






Contact Us:






CYTRON TECHNOLOGIES SDN BHD

1, Lorong Industri Impian 1, Taman Industri Impian, 14000 Bukit Mertajam, Penang, Malaysia
Tel:

+604-5480 668

Fax:
+604-5480 669
Email:
engtong@cytron.io