33M General Purpose Vessel M.V. "NEOPETRO 9,10"


Naval Arch Marine Sdn Bhd (NAM) was established in 2008 to fulfil the increasing demand in Malaysia's shipbuilding market.

It offers a complete set of design and consultancy services to the shipbuilding industry, starting with the early stage of design to production information.
Full Steam Ahead
With the latest technologies in ship production, the wholly independent marine design and Computer-Aided Design and Computer-Aided Manufacturing (CAD/CAM) consulting company is a force to be reckoned with in the thriving shipbuilding market.

To date, it has successfully completed many shipbuilding and conversion projects of different types of vessels throughout Malaysia and other Asean countries such as Singapore and Vietnam, and in Australia.
Industry Strengths
Shipbuilding starts with enquiries from customers, followed by completion of various processes until the vessel is completed.

NAM is able to provide personalised and customised solutions to requests and requirements of shipowners/users and capabilities of shipyards.
NAM has vast experience in project conception and consultation, feasibility studies, investigation, survey and selection, liaison with classification authorities, as well as detailed engineering analysis and design.
Additionally, it is well-versed in contract plans and documentation, material and construction specifications, field inspection and supervision, and submission and obtaining government approvals and certificates.
New Building & Conversion
NAM's projects in basic and detailed designs include 18M shrimp trawler, 78M landing craft, 42M fast crew boat and 17M patrol boat.
Examples of its conversion projects are single hull to double hull tanker and general cargo carrier to livestock carrier.

Its repowering jobs include 38M patrol boat and 47M fast attack craft.
For production design, it uses 3D structure, 3D piping, 3D cutting and nesting and 3D modelling
The company is also involved in engineering services including 3D laser scanning, finite element analysis, powering analysis, model tank test, seakeeping analysis, sound and vibration, and offshore containers.
Project Management
In project management, NAM offers services beginning with project definition and documentation, going through all design stages to assure correct implementation during the building process, as well as tests and trials until the delivery of the ship to its owner.
Examples of completed projects include the 49M anchor handling tug supply vessel (AHTS): Jaya Mermaid 3, 55M PSC: AVISA 1, 60M AHTS: ZAKHER SUPPLIER and 60M AHTS: ZAKHER PRIDE.
It also offers services such as documentation and manuals including shipboard oil pollution emergency plan (SOPEP), cargo securing manual (CSM), emergency towing booklet, ballast water management plan, and ship structure access plan.
Advanced Engineering
Another service of NAM is advanced engineering where it uses a combination of advanced commercial software and in-house developed programs for onshore and offshore structures, strength analysis (class rules and FEM), structural design (2D and 3D), 3D modelling, infrastructure and towing tank test.
Knowledge Sharing
Also an education/training provider, NAM organises short courses to enable employees, marine professionals and those with non-marine background to better understand the maritime world, and to achieve high work efficiency and self-improvement.
Sets Sail For New Markets
With the global shipbuilding market expected to expand in future in view of increasing seaborne trade, economic growth and rising demand for shipping services, among others, NAM is well placed to capitalise on the flourishing shipbuilding market.
As of September 2019, NAM's design portfolio (new building) includes general-purpose vessels, ocean tugs, landing craft, shrimp trawlers, multipurpose vessels, AHTS, platform supply vessel, catamaran passenger boat, cargo barge and double-ended ferry.
Contact Us: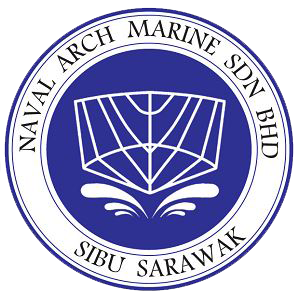 NAVAL ARCH MARINE SDN BHD


No. 77, 1st Floor, Lorong Sungai Merah 2C, 96000 Sibu, Sarawak, Malaysia