SHOKZ 4x4 Suspension Kit


Malaysian automotive parts manufacturer APM Automotive Holdings Bhd, which has achieved numerous industry firsts, has grown to be a major regional supplier and is now increasing its global market reach.
Despite the highly competitive environment in Malaysia, APM is still at the forefront of the industry and a clear leader on other fronts.
These include design and manufacture of bus and van seats, and leaf springs, the latter exported to Europe, ASEAN and North America.


Complete Suspension Kits
APM has in-depth technical and technological know-how to comply with international standards.
Its suspension division is one of the world's few manufacturers of leaf springs, coil springs, U-bolts, shock absorbers and auxiliary components all under one roof.
These facilities enable APM to provide added advantages to customers in terms of convenience and availability of complete suspension kits such as its Shokz 4x4 suspension kit for comfort and stability.


Other APM Products
Other automotive parts and components that it manufactures include automotive seatings, radiators, plastic injection and extrusion parts, alternators, starter motors, windshield washer systems and car air-conditioners.
APM-made seats are crafted to incorporate and integrate the most complex form of designs, i.e. the human form.
Meanwhile, APM's wide and versatile ranges of injection and extrusion machines ensure quality and precision manufacturing of the interior and exterior plastic parts of automobiles.


Eco-Friendly AC Systems
As to car air-conditioners, APM is poised to be the major manufacturer of quality air-conditioning systems and components as it is equipped with the latest technology and state-of-the-art equipment.
APM's air-conditioning systems only use the environmentally friendly R134a refrigerant.



APM Automotive Holdings Berhad HQ at Port Klang


Global Market Reach
APM has expanded its overseas operations to ASEAN member countries such as Vietnam, Indonesia, Thailand and Myanmar; and to the US.
They will be APM's key business in the future.
Furthermore, it has a strong presence in Australia and recently opened a new facility in the Netherlands to meet the growing demand for its products in the European automotive industry.
It is also expanding its reach to India in view of the latter's changing automotive landscape.


EV Technology For Buses
Together with its counterparts, APM is currently in a venture involving the technology and development of electric vehicle (EV), in this case, buses.
It's just a matter of time before the APM group produces and capitalises on its own EV technology.


Quality and Satisfaction Assured
APM is highly regarded in terms of quality, safety, on-time delivery, innovation and other aspects. It continues to maintain its upward trajectory and strives to become a globally preferred automotive solutions provider.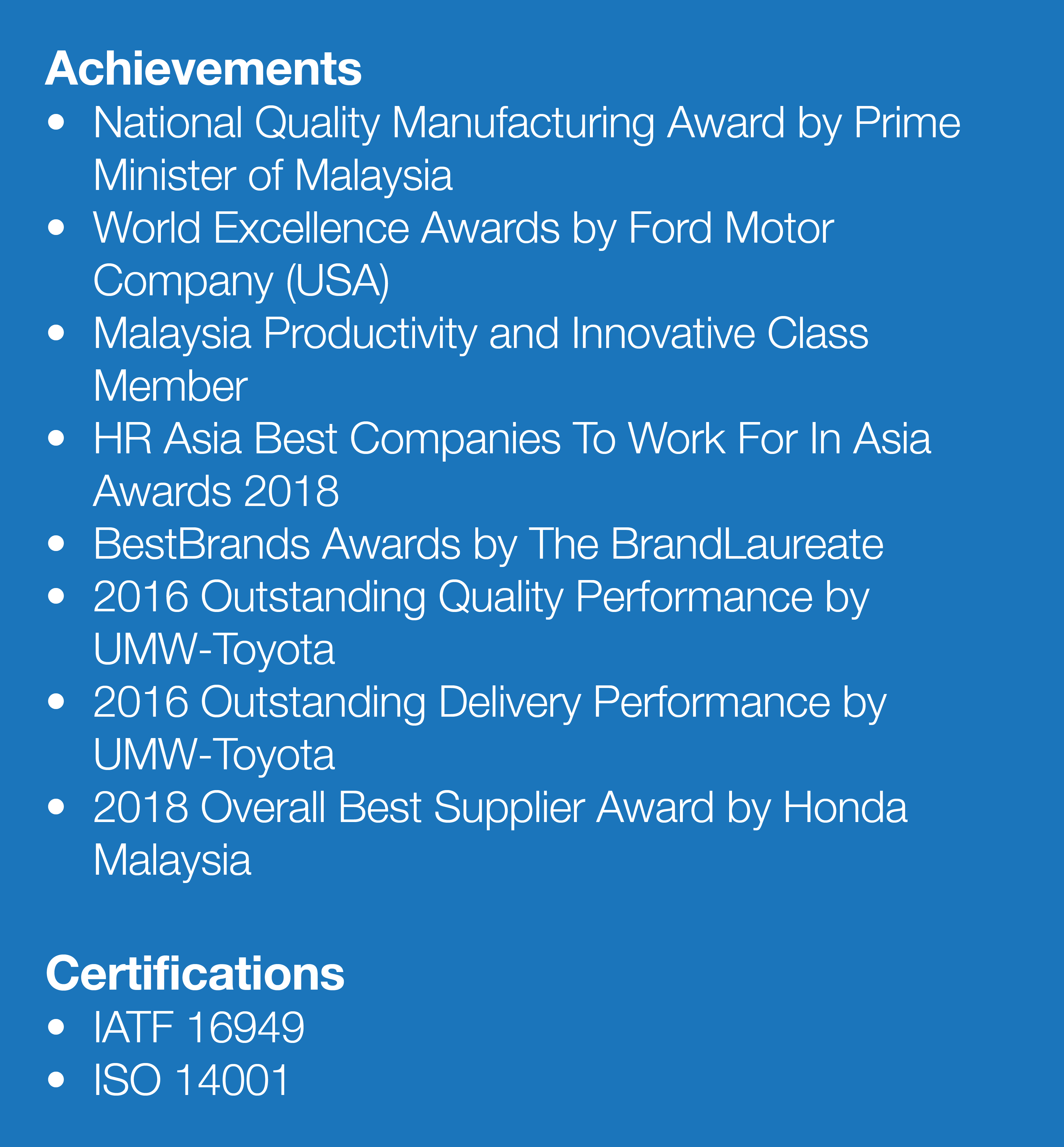 Contact Us:


APM AUTOMOTIVE HOLDINGS BHD


Lot 600, Pandamaran Industrial Estate, Locked Bag No. 218, 42009 Port Klang, Selangor, Malaysia
Tel:

+603 3161 8888


Fax:

+603 3167 9655


Email:

apmah@apm.com.my


Contact:

Mr Lim Seng Kim


Website:

www.apm.com.my